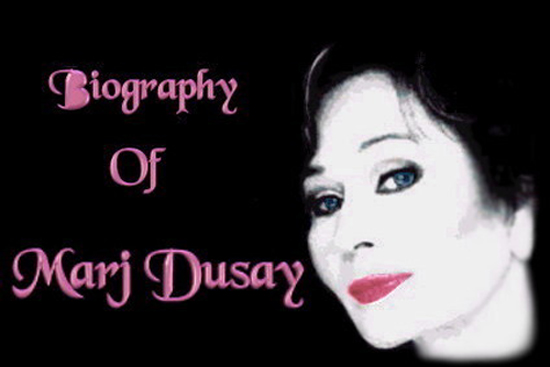 Marj Dusay was born and raised in Russell, Kansas, the second of six children.
Great-grandfather Mahoney emigrated from Ireland during the Great Potato Famine to become a homesteader in Kansas. Marj's mother's family-- the Pivonkas ( descendents of composer Anton Dvorak) -- came from the "gypsy region" of Bohemia.

Both parents were educators: her father coached Junior College athletics and her mother was a grade school teacher. Marj's upbringing included playing every sport imaginable. A gifted equestrian, she trained her own horses to ride in saddle club shows and riding contests, even garnering the title of country rodeo queen. Growing up, Marj also spent as much time as possible with her beloved grandmother, Tony Pivonka.

Marj excelled in every area of high school, and was an honor student, debater, and prom queen. While at the University of Kansas she appeared in several stage productions and was crowned Kansas University Homecoming Queen. She married her childhood sweetheart, John Dusay, and the couple had two children. While living in Kansas City, Marj began her modelling career, and when the family moved to New York for her husband's medical internship, Marj began modeling and studying acting. For his residency, they relocated to San Francisco, where Marj quickly became a top fashion model and nationally-recognized commercial personality. It was there Marj began studying improvisational comedy and radio speech.

Ultimately, Marj moved to Los Angeles and began working in theatre and film. Her first break came when Rob Reiner formed an improvisational comedy troupe called THE SESSION, whose members included Marj, Reiner, Richard Dreyfuss, Larry Bishop, David Arkin, Phil Mishkin, Richard Mishkin and Bobbi Shaw.



THE SESSION played Los Angeles for two years as the city's first in-house improv comedy group, and appeared many times on such star-maker shows as Johnny Carson, Joey Bishop, and Steve Allen. During that same period, Marj and Dreyfuss also did a television comedy pilot together.

Marj's career to date has encompassed a huge range of roles in feature films and television. Some examples of her work include appearing opposite James Garner on Bret Maverick, four years on the CBS soap Capitol, and NBC's Santa Barbara. She also had a recurring role for seven seasons on NBC's Facts of Life, earning two Emmy nominations for her performance as Blair's mother, Monica Warner.

Marj has guest-starred hundreds of times on TV series such as Murder She Wrote; In the Heat of the Night; Perfect Strangers, Friday the 13th; Quincy; Wild, Wild West; Star Trek and The Fresh Prince of Bel Air. She has received critical acclaim for her dramatic roles, specifically for her performance in the film Mac Arthur as Gregory Peck's wife, and in Mancuso, playing opposite Robert Loggia.

| | |
| --- | --- |
| Marj is also an impressive impressionist, and can conjure the likes of Katharine Hepburn (at all ages), Marilyn Monroe, Maggie Smith and Julia Child. She is adept at accents (English, German, Russian, Hungarian, Swedish, and French, to name but a few), as well as regional dialects such as Midwestern, Southern, New York and Texan. | |

| | |
| --- | --- |
| Marj still enjoys participating in a variety sports, and has even hosted her own celebrity golf and tennis tournaments. She is on the Kansas University Advisory Board for the Theatre Arts, and served as Kansas Film Commission Chairwoman for four years. She lends her name and support to Project Angel Food, which provides meals for men, women and children living with AIDS, as well as several child abuse prevention organizations. | |

| | | |
| --- | --- | --- |
| FEATURE FILMS | | |
| PRIDE AND LOYALTY | | Independent film w/Joe Barbara, Mark Consuelos, Rebecca Budig |
| A CHRONICLE OF CORPSES | | Independent film /Dir. Andrew Repasky McElhinney |
| 12 BUCKS | | w/Jonathan Silverman & Ernest Borgnine /Dir.Wayne Isham |
| LOVE WALKED IN | | w/Denis Leary & Terence Stamp /Dir. J Campanella |
| CIAO YU | | w/Daniel J. Travanti /Prod. Ang Lee, Dir. Sylvia Chang |
| MADE IN HEAVEN | | w/Kelly McGillis, Timothy Hutton /Dir. Alan Rudolph |
| MAC ARTHUR | | w/ Gregory Peck /Dir. Joseph Sargent |
| SWEET NOVEMBER | | w/Anthony Newley & Sandy Dennis /Dir. Ralph Nelson |
| PENDULUM | | w/George Peppard, Richard Kiley /Dir. George Shaeffer |
| BREEZY | | w/William Holden /Dir. Clint Eastwood |
| 30 DANGEROUS SECONDS | | Independent film /Dir. Joseph Taft |
| CLAMBAKE | | w/Elvis Presley |
| | | |
| SERIES REGULAR | | |
| ALL MY CHILDREN | | ABC-Contract, "Vanessa Bennett Cortlandt" 1999 - 2002 |
| GUIDING LIGHT | | CBS-Contract, "Alexandra Spaulding" 1993-1997,1998-1999, 2002 - 2009 |
| SONS AND DAUGHTERS | | CBS-Recurring, 1991 w/Lucie Arnaz |
| STUDIO 5B | | ABC-Recurring w/Justin Deas, George Grizzard & David Ackroyd |
| FACTS OF LIFE | | NBC-Recurring, 7 seasons as "Blair's Mom" Monica Warner |
| SANTA BARBARA | | NBC-Recurring, 1989 - 1991 as Pamela Capwell Conrad |
| DALLAS | | CBS-1986 as Marge Billings |
| CAPITOL | | CBS-4 years Lead w/Richard Egan as Myrna Clegg |
| BRET MAVERICK | | NBC-Lead w/James Garner, 1982 as Kate Hanrahan |
| CLIFFHANGERS | | NBC-Lead, 1981 as Jennifer Selden w/Ray Walston |
| | | |

MINI SERIES & M.O.W.'s LEADS
CLIMB AN ANGRY MOUNTIAN
w/Fess Parker, Barry Nelson, Stella StevensWSS
MOST WANTEDT
w/Tom Selleck, Robert Stack, Leslie Charleson
MURDER IN PEYTON PLACE
w/Mia Farrow, Ed Nelson, Dorothy Malone
WHEELS (Arthur Hailey's)
w/Rock Hudson, Lee Remick, Ralph Bellamy
FIRE IN THE SKY
w/Richard Crenna, Andrew Duggan
STRANGE COMPANIONS
w/Doug McClure
THE CHILD STEALER
w/Beau Bridges, Blair Brown, Tracy Gold
THE PARADISE CONNECTION
w/Buddy Ebsen, Brian Kerwin, Paul Lambert
THE MURDER THAT WOULD'T DIE
w/WilliamConrad, Jose Ferrer, Robin Mattson
DAUGHTERS OF PRIVILEGE
w/Dick Van Dyke, Daphne Ashbrooke
LOVE MATTERS
w/Griffin Dunn, Annette O'Toole
THEATRE AND IMPROV
TALE OF THE ALLERGIST'S WIFE
w/Paula Prentiss, David Hedison-CapePlayhouse,MA.
GOOD WILL
w/Dana Reeve, Directors Company, New York
THE COMMITTEE
San Francisco

| | |
| --- | --- |
| THE SESSION/THE EXPOSURE OF RAYNORD SPOLTROUS | Dir. Rob Reiner |

THE WOMAN'S GYM
Circle Theatre
MAN AND SUPERMAN
OPPER
STEVE ALLEN SUMMER COMEDY SHOW
SPECIAL SKILLS
Golf, Ping Pong, Swimming, Horseback Riding, Skiing, and Singing
ACCENTS AND DIALECTS
British, Irish, German, Russian, All Eastern European, American, Southern, Midwestern, and Texas
SPECIAL APPEARANCES
JOHNNY CARSON SHOW
THE JOEY BISHOP SHOW
MERV GRIFFIN
TATTLETALES
CBS TALK SHOW CO-HOST
For a detailed list of Marj's credits and Notable TV guest appearances, visit:
The Internet Movie DataBase